Sostieni ImperiaPost con una piccola donazione
Aiutateci ad informarvi!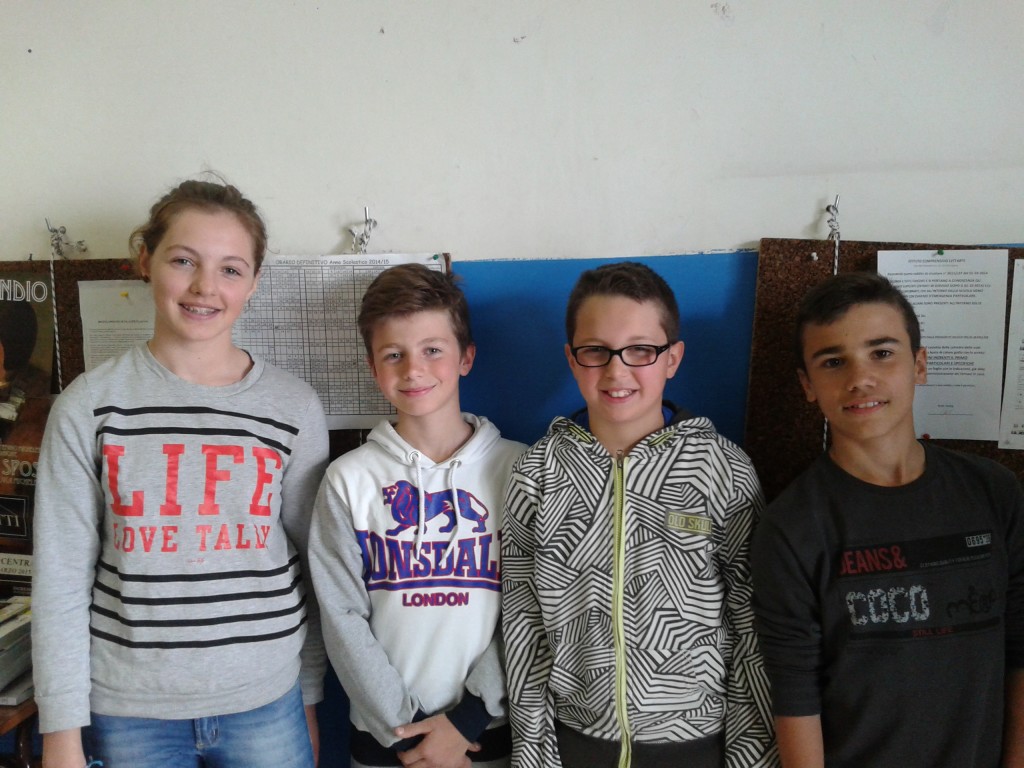 IMPERIA. In occasione del 70' anniversario della Liberazione l'Istituto Littardi ha partecipato al Concorso Europeo "Memory and Engagement for European Citizens" promosso dall'Assesorato Attivita' Educative del Comune di Imperia e dall' associazione Apertamente, ottenendo l'ambita vittoria del viaggio a Strasburgo per la visita al Parlamento Europeo.
La piccola delegazione imperiese sara' composta dai giovanissimi studenti delle medie Littardi, Matteo Coscia della I C, Martino Gossi e Linda Riva della I B, Simone Magri II B  accompagnati dalla Prof.ssa Silvia Caffa che ha seguito la realizzazione del progetto.
Il video vincitore ha il tono divertente e giovanile dell'intervista doppia e ricorda con un flash-back la gioia vissuta il 25 aprile 1945 dai nonni dei giovani attori. E' stato un lavoro di ricerca, gli alunni hanno intervistato i nonni testimoni di quella storica giornata e con l'insegnante hanno ricercato uno stile accattivante che rendesse vive nei giovani di oggi, le aspettative e le speranze dei giovani di allora.
Al concorso hanno partecipato oltre le classi delle medie, anche le classi V A e V B del plesso di Piazza Roma della Littardi ottenendo il quarto posto della graduatoria finale.
I vincitori parteciperanno alla premiazione il giorno 25 aprile alle ore 18 in Piazza della Vittoria in occasione della grande festa organizzata per la storica ricorrenza del 70' della  Liberazione.
Commenta il dirigente Dott.ssa Francesca Migliorero: " Continuano le soddisfazioni per  l'Istituto Comprensivo Littardi che ha ricevuto in questi giorni la graditissima notizia della partecipazione come unica scuola media imperiese all'Expo 2015 grazie alla collaborazione al Progetto "Carosello del gusto" realizzato dall'Istituto Tecnico Ruffini.Gli alunni delle medie e delle V di P.zza Roma della Littardi hanno realizzato dei video-clip sul tema della cucina tipica della nostra citta', storie recitate sullo stile del vecchio carosello e video realizzati secondo le moderne tecniche pubblicitarie. 
Percorsi di studio non tradizionali che mirano a coinvolgere gli alunni rendendoli protagonisti di un modo diverso di "fare scuola".
Siamo veramente felici di comunicare che la scuola Media Littardi ha  ottenuto l'ambita vittoria del concorso Europeo "Memory and Engagement 
for European Citizens" che darà diritto a 4 nostri studenti di Volare a Strasburgo a visitare il Parlamento Euroepo, inoltre al concorso hanno 
partecipato anche le scuole Primarie e le nostre classi quinte si sono aggiudicate il 4° posto.
Arrivare primi ad un concorso Europero ci riempie di orgoglio, inoltre, giusto oggi, abbiamo saputo che grazie alla collaborazione con il 
progetto Carosello del Gusto realizzato dal Istituto Tecnico Ruffini la nostra scuola media sarà l'unica scuola media Imperiese che parteciperà 
al Expo 2015."
Sostieni ImperiaPost con una piccola donazione
Aiutateci ad informarvi!