Sostieni ImperiaPost con una piccola donazione
Aiutateci ad informarvi!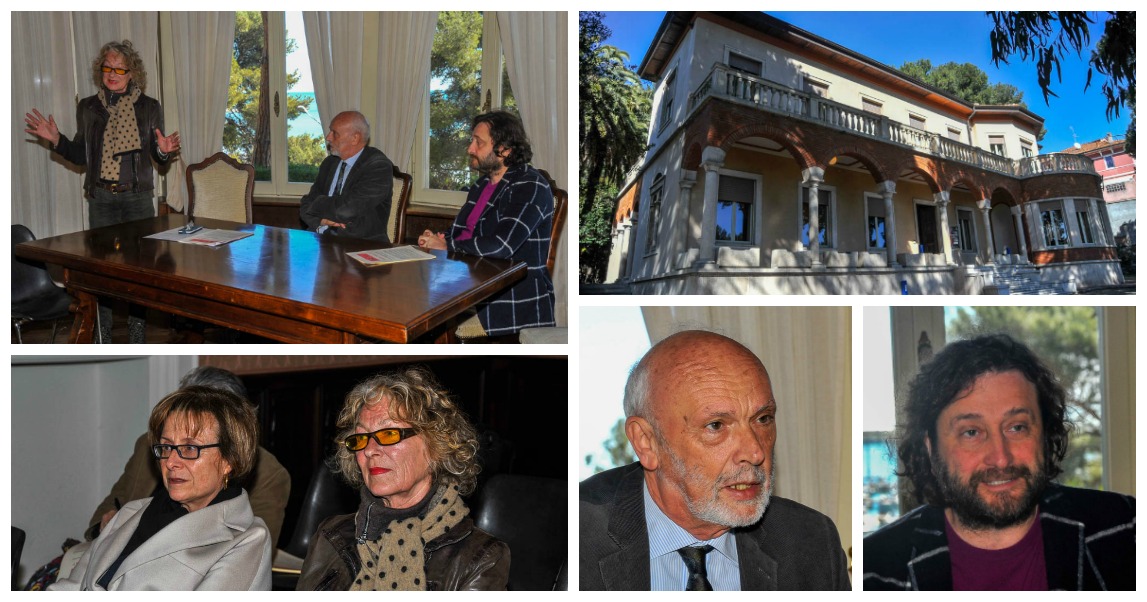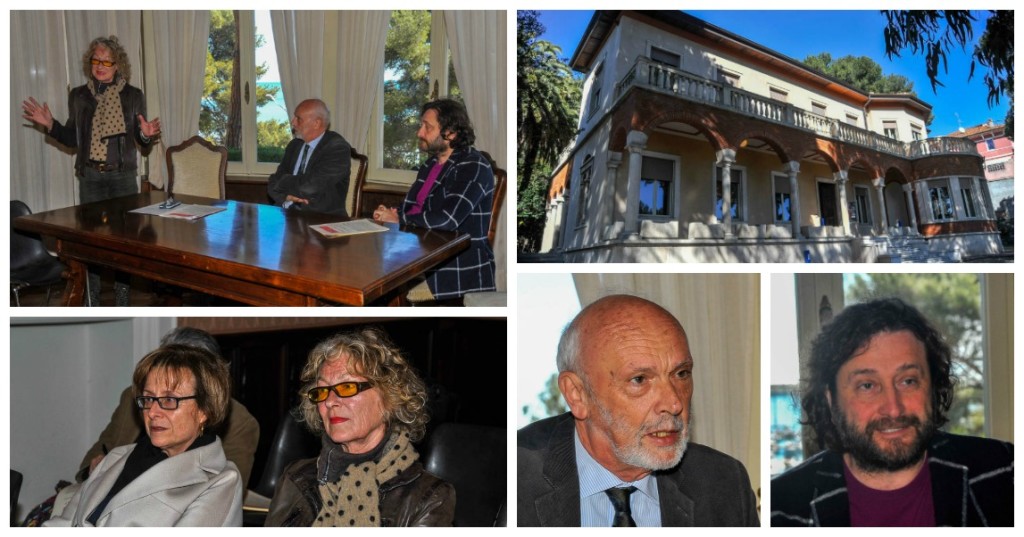 È stato presentato oggi, martedì 7 marzo, presso Villa Faravelli, il "Progetto Tempo '17", il nuovo ciclo di mostre, performance ed eventi del M.A.C.I., il Museo di Arte Contemporanea di Imperia. A partire da sabato 25 marzo fino al termine dell'estate, il M.A.C.I. – Museo di Arte Contemporanea di Imperia vedrà alternarsi una vera e propria programmazione di mostre temporanee, animate da performance live ed eventi collaterali, sotto la rinnovata gestione della Società Cooperativa C.M.C. Il percorso, sviluppato con il marchio di "Progetto Tempo '17", affiancherà l'esposizione permanente della Collezione "Lino Invernizzi" e ospiterà in successione, presso la sede di Villa Faravelli, tre proposte artistiche all'insegna dell'eterogeneità, dei nuovi linguaggi e della ricerca qualitativa.
ANGELO GIACOBBE, PRESIDENTE DELLA COOPERATIVA C.M.C.
"Nell'ambito del nostro impegno, come gestori del Museo di Villa Faravelli, abbiamo voluto iniziare un percorso di appuntamenti che si svilupperanno dal 25 marzo fino a fine agosto, nel periodo di forte interesse turistico. Saranno 3 mostre, la prima delle quali con una serie di artisti che si confronteranno su un personaggio icona dei nostri tempi, David Bowie, che ha ispirato una serie di artisti in una sfaccettata alternanza di generi e di stili, guidati da Marco Lodola, uno dei nomi più importanti dell'Arte Contemporanea in Italia, da sempre vicino al mondo della musica.
Dal 1° giugno in avanti, Luca Saini, visual artist torinese, ci condurrà in una dimensione particolare. Ha ideato una progettazione apposta per le sale del Maci, in un percorso multisensoriale di suoni, musica e immagini, legati anche alla scienza, che si svilupperà in linguaggi mai visti in questo contesto e nel nostro territorio. Il 1° e il 2 giugno ci sarà anche un evento musicale.
Carin Grudda, artista tedesca che da molti anni vive nel nostro entroterra, è protagonista del nostro terzo appuntamento, con una mostra prevalentemente di scultura, ma non solo, che avrà il prego di interessare molto il parco della villa. Sarà un cammino tra delle figure, fatto di suggestioni, fiaba, tutto da scoprire, fino al 27 di agosto. Un cammino fatto di tante sfumature che abbiamo intenzione di promuovere perchè vogliamo che la città si avvicini a questo luogo che è uno delle risorse più significative, per fare in modo che partecipi alla festa dell'arte e della bellezza".
NICOLA PODESTÀ, ASSESSORE ALLA CULTURA
"Maci aveva preso vita un anno fa, un anno e un mese fa, e quando abbiamo inaugurato la mostra di arte contemporanea, che è una delle più importanti in Italia, avevamo detto che la nostra meta era quella di far si che questo punto diventasse un luogo di diffusione dell'arte contemporanea e della cultura dell'immagine. Con grande soddisfazione, a distanza di poco più di un anno, possiamo dire che questo progetto si concretizza. Si concretizza grazie alla volontà, l'iniziativa e l'inventiva della Cooperativa C.M.C., che gestisce il museo di arte contemporanea con una serie di iniziative di livello assolutamente elevato, di livello nazionale.
La prima è questa mostra collettiva a cui partecipa, e mi fa molto piacere, anche un artista imperiese, Settimio Benedusi, fotografo. È veramente qualcosa di coinvolgente, qualcosa che rappresenta il punto di partenza di un progetto culturale che si sviluppa su tre tappe. La seconda tappa, Luca Saini, che è un fotografo, ma non un fotografo normale. Un fotografo che accompagna le opere con delle performance, con delle esibizioni musicali. Promette molte sorprese qua, all'interno di questa Villa Faravelli.
Il terzo con una artista, una pittrice, una scultrice di grandissimo talento, tedesca, che però ha scelto la Riviera come luogo di vita, Carin Grudda. Porterà le sue opere qua. Queste opere saranno esposte anche fuori, quindi avremo l'occasione di rivitalizzare il parco e poter vivere il parco. Un progetto che copre tutta la bella stagione, che parte il 25 di marzo e termina a fine agosto e offrirà grandi spunti, grandi motivi di interesse per la cittadinanza e per tutti quelli che vogliono curare l'aspetto della cultura dell'immagine e del bello".
Ogni esposizione prevederà un momento di inaugurazione aperto alla città: molto più di un vernissage, ma veri e propri happening, arricchiti da dj set, live musicali, incontri, per coinvolgere il pubblico verso un' arte contemporanea da guardare ma soprattutto "da vivere". Nel corso di ogni periodo di allestimento, in aggiunta alla possibilità di visite guidate e alla proposta di laboratori didattici tematici e interattivi, saranno diversi gli eventi e le iniziative speciali legati alla temporanea in atto: un nuovo concept di museo, rivolto alle persone, ricco di proposte, novità e mai statico. Sottolineiamo che l'intera programmazione di "Progetto Tempo '17" si sviluppa nel corso della stagione primaverile ed estiva, interessando diversi periodi cruciali di interesse turistico, con l' intento di arricchire Imperia di una offerta attrattiva di grande significato per un target di ospiti italiani e stranieri che possano trovare a Villa Faravelli una nuova stimolante opportunità culturale.
La Cooperativa C.M.C., dal 2001 attiva nel settore dell'organizzazione artistica e culturale, sul territorio e a livello nazionale, con questa iniziativa prosegue nel suo impegno per la valorizzazione del M.A.C.I., con uno sguardo sempre attento e rivolto a nuovi linguaggi, quasi completamente assenti dal territorio del ponente ligure. Una progettazione trasversale, in grado di conquistare i giovani ma senza escludere le famiglie, gli appassionati e tutti coloro vogliano semplicemente avvicinarsi all'arte contemporanea con curiosità e interesse.
Ad aprire il ciclo "Tempo '17" del nuovo M.A.C.I. di Imperia, una mostra tributo all'icona musicale più influente degli ultimi 50 anni: da sabato 25 marzo a domenica 7 maggio "David Bowie. The Real Face" vedrà la presenza di esponenti significativi della pop art italiana guidati da Marco Lodola, impegnati in un personale omaggio alla figura del cantante inglese, ad un anno dalla sua scomparsa.
Accanto alle celebri sculture luminose dell'artista lombardo, i quadri, le foto e le sculture firmate da Giovanna Fra, Andy Fluon, Bianca Lodola, Sergio Pappalettera, Settimio Benedusi, Alfredo Rapetti Mogol. Eccezionale opportunità della mostra, la presenza di un oggetto cult: Sarà infatti esposto al pubblico il calco originale del volto di Bowie, realizzato nel 1975 durante le riprese del film "The man who fell to Earth" ("L'uomo che cadde sulla Terra" – 1976), battuto all'asta da Sotheby's negli anni '90 e in seguito autografato dallo stesso Bowie. Il vernissage di inaugurazione, previsto sabato 25 marzo alle ore 17.30 vedrà la partecipazione degli artisti stessi ed esibizioni live e dj set, in una vera e propria festa negli spazi del M.A.C.I. a segnare l'inizio della nuova offerta espositiva del museo. Il momento sarà impreziosito dalla presenza di Red Ronnie, critico, giornalista ed esperto musicale nonché artefice della storica intervista a Bowie nel corso della quale il cantante firmò la famosa "real face" che dà titolo alla mostra.
La programmazione continua, alle porte della stagione estiva, con una mostra personale dell'innovativo visual artist torinese Luca Saini, nella sua proposta di un progetto del tutto inedito ideato appositamente per gli spazi di Villa dal titolo "VBR- xyz": un allestimento multidisciplinare, multimediale e interattivo tra arte, musica e videomaking sul tema della vibrazione sonora. Da giovedì 1 giugno a domenica 2 luglio Saini ci coinvolge in una mostra unica e all'avanguardia. Prezioso l'incipit della mostra, inaugurata da una due giorni di eventi e concerti live – giovedì 1 e venerdì 2 giugno: le performance e le esperienze visive e sensoriali con la partecipazione attiva del pubblico, saranno oggetto di alcune riprese, parte integrante un documentario realizzato dall'artista in esclusiva per questo speciale progetto. Terzo appuntamento tutto al femminile, con la mostra personale di Carin Grudda, stimatissima artista tedesca, ligure d'adozione. La sua arte da anni acquisisce un rilievo internazionale, segnato da decine di partecipazioni e mostre personali in tutta Europa, arrivando fino alla Biennale di Venezia nel 2011, dove ha rappresentato l'Italia. Da giovedì 13 luglio a domenica 27 agosto gli spazi interni e soprattutto l' intero parco di Villa Faravelli, saranno lo scenario ideale per un viaggio tra le imponenti sculture in bronzo dell'artista, creature fantastiche di un mondo popolato di animali e personaggi simbolici, nati dall'immaginazione della Grudda. Oltre 5 mesi di esposizioni dunque, che conosceranno anche occasioni di ulteriori esperienze live.
ECCO IL PROGRAMMA:
Da sabato 25 marzo a domenica 7 maggio 2017
DAVID BOWIE. THE REAL FACE
A un anno dalla scomparsa del Duca bianco, la mostra "David Bowie. The Real Face" tributo all'icona musicale più influente degli ultimi 50 anni, propone le opere dei maggiori esponenti della pop art italiana.
Grandi i nomi presenti in mostra, ognuno impegnato nel suo personale omaggio al cantante inglese. Marco Lodola, artista di fama internazionale e grande appassionato di musica, porterà al M.A.C.I. le sue stupefacenti e ormai celebri scatole luminose, in un gioco di forme e luci negli spazi interni della Villa e non solo.
Accanto alle opere dell'artista lombardo, Giovanna Fra e le sue Metamorfosi del segno, testimonianza di uno studio sulla dinamicità del colore, tema centrale nella sua arte come nell'estetica di Bowie; Andy Fluon, artista e membro storico della band Bluvertigo, presenta dipinti e sculture di ispirazione fortemente underground; Sergio Pappalettera, poliedrico artista specializzato in spettacolari rielaborazioni grafiche, protagonista di direzioni artistiche per cantanti come Jovanotti e di marchi come Miu Miu e Givenchy; Bianca Lodola, figlia d'arte le cui opere sono connotate da un uso vivacissimo delle cromie e dal segno molto riconoscibile; Settimio Benedusi, grande nome della fotografia italiana e originario della città di Imperia, presenterà un' opera realizzata attraverso una tecnica di visione particolarissima che per l' occasione verrà ricreata in una sala del museo, per un' esperienza sensoriale unica del visitatore; Alfredo Rapetti, pittore e paroliere italiano, figlio del celebre Mogol, si è affermato nel mondo della musica con lo pseudonimo di Cheope e a Villa Faravelli porterà i suoi lavori che coniugano la pittura alla parola scritta, parola come segno e traccia della nostra memoria.
La mostra prevede inoltre l' esposizione eccezionale al pubblico del calco originale del volto di Bowie, realizzato nel 1975, durante le riprese della pellicola cinematografica "The man who fell to earth" ("L'uomo che cadde sulla Terra" – 1976).
In quel film Bowie indossava varie maschere, volute dall'artista stesso per avere un aspetto "alieno" che non tradisse le espressioni e le emozioni del viso umano: il calco era stato utilizzato dai costumisti per realizzarle della misura perfetta. L' oggetto cult fu battuto all'asta da Sotheby's negli anni '90 e in seguito autografato dallo stesso Bowie nel corso di un' intervista condotta da Red Ronnie durante una puntata dello storico format Roxy Bar.
Una mostra-evento unica, in onore di un artista tra i più affascinanti di sempre, in grado di attraversare varie ere, sperimentando e giocando con la sua immagine esteriore, e restando fedele a se stesso, ovvero un incredibile sperimentatore.
La grande inaugurazione, prevista per sabato 25 marzo, si svilupperà in un pomeriggio intensissimo che vedrà la presenza dello stesso Red Ronnie e degli artisti, in un happening connotato da una colonna sonora ovviamente "tematica".
Il catalogo della mostra, realizzato con il progetto grafico dello Studio Prodesign di Sergio Pappalettera e pubblicato da Vanilla Edizioni, avrà un intervento introduttivo del discografico imperiese Stefano Senardi, profondo conoscitore ed estimatore dell'opera di Bowie e da sempre molto vicino alle istanze culturali della sua città.
Marco Lodola
Nasce a Dorno (PV) e frequenta l'Accademia di Belle Arti di Firenze e Milano. All' inizio degli anni '80 fonda il Movimento del Nuovo Futurismo, di cui il critico Renato Barilli è stato il principale teorico. Utilizza materiali plastici che sagoma e colora, e la sua ricerca lo porta a inserire fisicamente la luce nei lavori: nascono le sculture luminose, che caratterizzano tutta la sua produzione artistica. Dal 1983 espone in molte città italiane e del mondo: Lione, Vienna, Madrid, Barcellona, Parigi, Amsterdam, Bruxelles, Pechino, Miami, New York, San Paolo del Brasile, Rio de Janeiro, Città del Messico. Espone al Padiglione Italia della 53esima Biennale di Venezia, l' installazione "Balletto Plastico" dedicata al Teatro Futurista e partecipa alla 54esima Biennale della laguna con il progetto a cura di Vittorio Sgarbi "Cà Lodola". Ha realizzato le scenografie per film e programmi televisivi. Da sempre unisce la sua arte visiva a letteratura, cinema, musica, teatro, danza e design.
Giovanna Fra
Si è diplomata in pittura all'Accademia di Belle Arti di Brera, preparando una tesi su John Cage ed il rapporto tra arte e musica nel '900. Studiando nel contempo studia restauro conservativo tra Milano e Venezia.
La sua visione creativa ha privilegiato la fisicità dinamica del colore in relazione alle diverse consistenze della materia, fissando nell'immediatezza del gesto attimi di sospensione e rarefazione.
Tra le recenti mostre in sedi pubbliche e private si segnalano: Rumore bianco, Chiesa dei S. Ambrogio e Bellino di Vicenza. Fugaci cromie, Palazzo del Broletto di Pavia. Arte aniconica, Casa del Mantegna. Tempus-time, Musei Civici di Pavia. Carte italiane, Istituto Borges, Buenos Aires. Dialogo tra generazioni, dal Futurismo ai giorni nostri, Ambasciata Italiana, Il Cairo. Quattro volti, Istituto Italiano di Bruxelles. Michelangelo oggi, Westend Galerie, Francoforte. Texture, Mondadori Store Duomo, Milano. Fil Rouge, V.I.U. Isola di San Servolo, Biennale di Architettura, Venezia. Nothing is real, M.A.O (Museo d'Arte Orientale) Torino. Lo Do La Fra, Palazzo Coveri, Firenze. Paesaggi sonori, Galleria Rotta Farinelli, Genova (Catalogo a cura di Luca Beatrice e Vittorio Sgarbi). Texture, Museo Nazionale Albania di Tirana.
La sua prima esposizione avviene nel 1991 presso lo storico Bar Jamaica di Brera a Milano, con le recenti installazioni luminose al Castello Visconteo di Pavia celebra i suoi 25 anni di carriera.
Andy Fluon
Da sempre attratto dalle arti figurative, si forma presso l' Istituto d' Arte di Monza e successivamente si specializza in illustrazione e grafica pubblicitaria presso l' Accademia delle Arti Applicate di Milano. Ispirato ai grandi maestri dell' arte italiana e alla cultura "pop" inglese e americana, sedotto dall' idea che la corrente artistica underground possa trovare spazio nel mainstream, Andy consolida negli anni il suo personalissimo codice pittorico basato sull' uso scenografico dei colori acrilici fluorescenti "trattenuti" in visibili bordature nere, utilizzate per sintetizzare in modo accattivante e mai scontato, forme e piani sia narrativi che prospettici. Numerose negli anni le mostre personali e le partecipazioni a collettive e fiere d'arte, tramite cui ottiene un notevole successo in Italia e all'estero, valendogli collaborazioni con marchi importanti, tra cui Coveri, Iceberg, Fiat, etc. .. Artista eclettico, curioso e originale, è anche musicista di talento: nei primi anni '90 fonda con Morgan i Bluvertigo, partecipando alla stesura di 3 dischi, un live e una raccolta di successi, contribuendo con sax, tastiere, voce e sintetizzatore.
Sergio Pappalettera
Nasce a Milano nel 1961. Nel 1984 fonda lo Studio Prodesign, orientando la sua attività in ambito musicale. Inizia quindi a collaborare con i più grandi artisti italiani, ideando le cover delle loro produzioni discografiche. Nel 2000 realizza un cortometraggio intitolato "Venceremos", selezionato per il Sundance Film Festival e per il Festival di Locarno. Nel 2008 tiene alla Triennale Bovisa la personale "Il gioco del mondo". Nel settembre 2015 l'Expo Gate di Milano ospita la sua personale "Metamorfosi", un percorso interattivo tra video proiezioni, suoni e performance live. Cura la direzione artistica di diversi progetti per case di moda come Miu Miu e Givenchy. Dal 1991 al 2015, Pappalettera è art director visual di 14 concerti di Jovanotti, oltre che di Pino Daniele ed Eros Ramazzotti.7
Bianca Lodola
Giovane artista classe 1994, figlia d'arte, nasce e cresce immersa in questo mondo. Frequenta l' Accademia delle Belle Arti di Brera, lavorando con i mezzi della pittura e della fotografia. La sua prima personale dal titolo "Wanted man", si è tenuta in piazza Duomo a Milano presso la sala espositiva del Mondadori Megastore. La prima esposizione internazionale è del 2016, presso l' Excellence Art Gallery di Marbella, in collaborazione con Toro Arte Contemporanea Spagna. Sempre del 2016, la personale "Love minus Zero", un viaggio appassionato negli amori del rock e dell' arte, tocca la prima tappa a Toro Arte Contemporanea per poi approdare ad Avanguardie Artistiche a Cassino (FR). Di lei Luca Beatrice scrive: "Bianca Lodola è pittrice nel vero senso del termine, appassionata al colore, ci si butta dentro, non risparmia. Un talento vero e un po' selvaggio. Crescerà certo ma addomesticarla non sarà facile."
Settimio Benedusi
Fotografo di fama internazionale, nasce a Imperia, milanese di adozione. Ha collaborato per pubblicazioni delle maggiori case editrici (Mondadori, Rizzoli, Rusconi, Condè Nast, etc…). Grazie alla passione per la scrittura, dal 2003 tiene un seguitissimo blog sul suo sito personale, ed un altro sul sito del Corriere della Sera, il più importante news-magazine italiano. Partecipa per sette anni consecutivi, unico italiano, alla realizzazione della celeberrima rivista di Sports Illustrated. E' autore di ritratti per tutto il gotha italiano. Insegna allo IED, tiene workshop al TPW, ed è protagonista di numerose mostre personali.
Alfredo Rapetti Mogol
Artista completo, avendo vissuto in una famiglia di artisti di calibro internazionale. Il padre, Giulio, in arte Mogol, è passato alla storia della musica contemporanea grazie alla collaborazione con LucioBattisti mentre la madre, Serenella, è una disegnatrice di moda. Il nonno materno, Alfredo De Pedrini, Presidente dell'Associazione Arti Grafiche, introdurrà il nipote nel circuito artistico milanese. In questo spirito Rapetti cresce, cercando da subito di coniugare due passioni che si esplicano in due rispettive forme di espressione creativa: quella di paroliere, quindi la suggestione del significato della parola, e quella del segno che diventa canone visivo, ossia la pittura. La parola e la scrittura svelano, così, nella sua arte, un moto interiore e un flusso di coscienza che si esplicano attraverso la portata del colore. Alfredo Rapetti Mogol ha partecipato a diverse mostre personali, in Italia (Fondazione Ideazione di Roma, Villa Olmo di Como, Albergo delle Povere di Palermo, Ca' D'oro di Roma); in Europa (Fondazione KMG di Berlino e Galleria Maretti di Montecarlo); a varie collettive, in Italia (Palazzo Strozzi a Firenze, Salone D'Autunno a Parigi, Museo Permanente di Milano, Biennale di Venezia 2007, Biennale di Venezia 2001); e all'estero (Grand Palais di Parigi, MAR'S di Mosca, Museo per l'Arte Straniera di Riga e Salone D'Autunno a Parigi).
Da giovedì 1 giugno a domenica 2 luglio 2017
LUCA SAINI. VBR – xyz
Per gli spazi del M.A.C.I. di Imperia, il visual artist Luca Saini ha ideato un progetto site-specific: un lavoro inedito appositamente concepito per valorizzare i multiformi ambienti di Villa Faravelli, in una scoperta rinnovata delle sale, attraverso le quali il pubblico verrà guidato in un' esperienza sensoriale ed interattiva.
Le installazioni multimediali ed i video di Saini andranno ad intrecciarsi per dare vita, corpo e suono ad un progetto d' arte visiva sul tema della vibrazione sonora e dei fenomeni ondulatori.
Nasce così "VBR – xyz", un'opera multidisciplinare tra arte, musica e scienza, che indaga il concetto di invisibilità del suono e la possibilità di creare una sua rappresentazione visibile, dando vita ad un' immagine in movimento.
"VBR – xyz" è un progetto multimediale, che coinvolge diverse discipline artistiche d'avanguardia per creare un' esperienza immersiva. Al centro dell'indagine di Saini c'è una fascinazione ed un interesse per la Cimatica, una scienza che ci permette non solo di sentire, ma anche di "vedere" la musica. Questa affascinante materia ha le sue origini nei primi esperimenti compiuti nel XVIII secolo, che hanno permesso di dimostrare come le onde sonore prodotte da frequenze vibratorie o elettromagnetiche possano dare vita a delle forme. Il suono influisce quindi sulla materia fisica, creando vere e proprie immagini che lo rendono visibile.
Luca Saini creerà inoltre un'installazione di quattro gong, da lui stesso progettati, che verranno esposti in sospensione nell'atrio del museo, per accogliere il pubblico all'inizio del percorso di visita. Nelle sale del piano terra del M.A.C.I. verranno poi collocate due installazioni multimediali interattive di arte cimatica, realizzate attraverso l'utilizzo di voce, speaker, casse acustiche, polvere e acqua. Il percorso proseguirà con quattro video installazioni, concepite come clip di un trailer cinematografico, che approfondiranno il rapporto ancestrale dell'uomo con il suono.
Nei primi due giorni dell'inaugurazione – giovedì 1 venerdì 2 giugno – il M.A.C.I. offrirà al pubblico un' esperienza unica: sarà allestita negli spazi del museo una performance live di gong ed elettronica, con un trio ensemble, composto da Andrea Tosi, Stefano Dalan e Luca Saini, che permetterà di fruire gli ambienti di Villa Faravelli con suggestioni sonore create appositamente per restituire una visita esperienziale, segnata dal suono e dallo sguardo. Nei mesi antecedenti la mostra, verrà poi creato dall'artista, un trailer video volto proprio a promuovere e presentare il progetto che inaugurerà al M.A.C.I. Nel percorso di questa esperienza così sfaccettata, ci sarà infine spazio anche per riprese cinematografiche volte a documentare ed integrare l'esperienza del pubblico in un documentario realizzato per il progetto. Sarà infine realizzato e prodotto un disco in formato LP e CD, colonna sonora del progetto "VBR – xyz".
Luca Saini
Luca Saini è un fotografo e artista torinese. Nel corso degli anni ha partecipato a molte mostre collettive e personali in Italia ed Europa. Le sue opere sono state esposte dal Fotografia Festival Internazionale di Roma, Artissima, la Biennale dei Giovani Artisti d'Europa e del Mediterraneo, dal Conde Duque di Madrid e in molte altre manifestazioni artistiche.
Ha fotografato importanti musicisti italiani come i Subsonica, Linea 77, Disco Drive, Perturbazione, Motel Connection e realizzato artwork e video musicali per molti gruppi italiani. Le sue foto sono state scelte per realizzare libri firmati da Peter Greenaway, David Cronenberg e Atom Egoyan.
Negli ultimi anni ha sempre più indirizzato la sua ricerca verso il campo dell'arte "partecipativa" che prevede il contributo attivo e lo scambio continuo tra l'artista e le persone che partecipano al progetto. In questo quadro si inseriscono i work in progress My Beautiful Disco, Don't Stop the Dance scelto dai Subsonica per la realizzazione del video EDEN, The Screamo, POP (Prima O Poi) e Flags of Democracy.
Da giovedì 13 luglio a domenica 27 agosto 2017
CARIN GRUDDA
A partire dal 13 luglio, gli spazi di Villa Faravelli e del suo parco saranno "invasi" dalle creature fantastiche dell'artista internazionale, ma fortemente radicata nel territorio ligure, Carin Grudda.
Il suo surreale e suggestivo bestiario andrà ad animare nel parco del M.A.C.I. un percorso espositivo, che coinvolgerà il pubblico nella scoperta dei meravigliosi scorci verdi che circondano la villa, trasformati in un "giardino incantato".
Le opere realizzate in bronzo a scala naturale dall'artista tedesca con base a Lingueglietta, evocano infatti un'atmosfera sospesa e sognante, e popolano una storia i cui protagonisti sono cani, uccelli, giullari, re e ballerine, caratterizzati da tratti essenziali e quasi infantili, con forme scomposte in un giocoso rimando al Dada. I colori sono brillanti e vivaci, dominati da un turchese intenso e "fiabesco", decorato con dettagli dorati, e disseminati di misteriosi ed evocativi segni grafici.
Il percorso nell'immaginario artistico di Carin Grudda proseguirà poi negli ambienti interni del M.A.CI., al piano terra di Villa Faravelli, dove sarà allestita la produzione pittorica dell'artista.
Carin Grudda affianca infatti ai suoi bronzi monumentali, superfici dipinte con le tecniche dell'acquaforte e della punta secca, sviluppate e declinate in maniera estremamente personale.
I soggetti vengono ispirati dal suo spazio lavorativo, trasposizione della condizione e della percezione nello spazio e nel tempo quotidiani. Recenti sono le esperienze di pittura su superfici in legno di oggetti trovati in precedenza, con una propria storia, evocata e riassemblata in un riuso artistico che restituisce una seconda vita all'oggetto.
Carin Grudda
Artista di levatura internazionale, Carin Grudda nasce nel 1953 a Gudensberg vicino a Kassel (Germania ovest). Nel 1991 vince una borsa di studio per Miami presso lo South Florida Art Center: grazie a questa esperienza i suoi lavori si orientano verso grandi forme di "pittura a gruppo", ossia di immagini che consistono in parti autonome di varie misure che si uniscono poi in un solo grande soggetto. Nel 1992, durante una borsa di studio in disegno artistico sponsorizzato da Saxony a Lipsia, Grudda apprende la tecnica dell'acquaforte e della punta secca, che adatta e continua a sviluppare ancora oggi in maniera personale. Nel 1993 Grudda si trasferisce a Ingelheim sul fiume Reno dove crea i Blaubilder, ossia cicli di grossi lavori che decide poi di modificare tagliandoli in pezzi di differente grandezza. Negli anni l'artista si dedica a realizzare i suoi quadri su differenti superfici. Nel 1998 conosce il fonditore romano Caporrella nella cui fonderia realizzerà, successivamente, numerose sculture in bronzo i cui soggetti varieranno dalle serie naturalistiche di piccole lumache a monumentali Blau-Miau. In seguito a sempre più numerosi e importanti lavori in bronzo in Italia, Grudda decide di trasferirsi in Liguria, nel borgo di Lingueglietta, dove tuttora vive, animando il Parco di sculture "Tra i Mondi", da lei ideato e gestito e sede del suo atelier. In Toscana e poi a Roma, perfeziona tutte le tecniche relative alla lavorazione del bronzo. Conosce e collabora con grandi artisti come Daniel Spoerri, Luciano Castello, Nunzio, Arman e Tommaso Cascella. L'artista lascia la sua "impronta" da Roma a Kassel, dalla vicina San Lorenzo al mare a Prato, dove ha concluso recentemente una personale al Centro Pecci. Il percorso artistico di Carin Grudda, segnato da decine di partecipazioni e mostre personali in tutta Europa, ottiene un prestigioso riconoscimento e apprezzamento internazionale con la selezione per la LIV Biennale di Venezia nel 2011.
[wzslider autoplay="true" interval="6000″ transition="'slide'" lightbox="true"]
Sostieni ImperiaPost con una piccola donazione
Aiutateci ad informarvi!