Sostieni ImperiaPost con una piccola donazione
Aiutateci ad informarvi!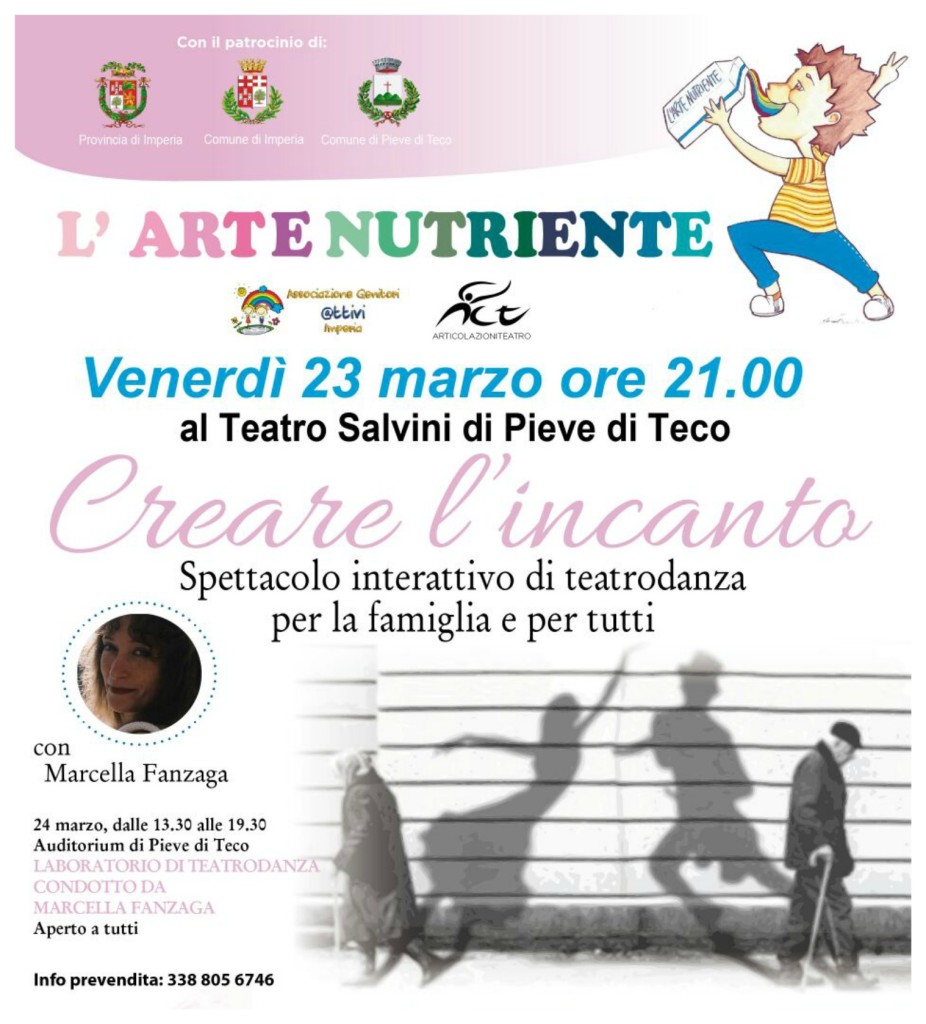 L'Arte Nutriente ha raggiunto la meta' del suo percorso per questa prima edizione, splendidamente. Amanda Fagiani (ACT – ArtiColazioniTeatro) Federica Novelli (Presidente di Ag@ – Associazione Genitori Attivi) e tutto il Direttivo di Ag@, invitano la cittadinanza al terzo evento teatrale della Rassegna L'Arte Nutriente; che per anche questo mese, propone spettacolo teatrale il venerdi' e laboratorio di teatro, il sabato pomeriggio:
"Creare l'Incanto" sar­à il prossimo spettacolo al Teatro Salv­ini di Pieve di Teco, il 23 marzo alle 21.00.
In scena, Marcella Fanzaga: perfor­mer con 25 anni di esperienza artistica, "creera' l'incanto" con l'espressivita' corporea del Teatro­danza. Il pubblico potra' interagire, esprimendo un desiderio sensoriale, che sa­ra' tradotto sul palco attraverso le sug­gestioni del movimen­to femminile.
In alcuni momenti, ad animare il palco con l'artista, le al­lieve di ACT TO LAB: Tina Civile, Monica Galli e la giovanissima Lily Ludany. (ACT TO LAB e' il laboratorio perman­ente di teatro, fond­ato e gestito da Ama­nda Fagiani, anche grazie alla disponibi­lita' del Comune di Pieve di Teco.)
Costi:
10 Euro Intero
5 Euro (3 – 16 anni) ridotto
Prevendita presso Bacan a Oneglia, libreria L'Armadilla a Porto Maurizio e A' Butega a Pieve di Teco.
I PROVENTI SULLA VEN­DITA DEI BIGLIETTI, SARANNO UTILIZZATI PER FINANZIARE CORSI DEDICATI AI GENITORI DI BAMBINI E RAGAZZI, CON DSA
Il giorno successivo sabato 24 marzo, Ma­rcella Fanzaga condu­rra' METAFORE CORPOR­EE – laboratorio inte­nsivo di Teatrodanza – presso l'Auditori­um di Pieve di Teco.
Si iniziera' alle 13.30, continuando fi­no alle 19.00/19.30.
I laboratori sono aperti a tutti e perm­ettono al pubblico di entrare nel mondo magico, che la sera prima hanno potuto ammirare.
Costi:
Adulti: 35 Euro (30 Euro ridotto)
Ragazzi 13 – 17 ann­i: 30 euro ( 25 Euro ridotto)
Bambini 3 -12 anni: 25 Euro (20 Euro ri­dotto)
Le riduzioni sono de­stinate al pubblico de L'ARTE NUTRIENTE, ai soci AG@ Associa­zione Genitori Attiv­i, ad allievi attori e attori. Per i bambini dai 3 ai 7 anni sara' impostato un eventuale lavoro di tempistica e ulteriore riduzione, ad hoc.
Sostieni ImperiaPost con una piccola donazione
Aiutateci ad informarvi!