Sostieni ImperiaPost con una piccola donazione
Aiutateci ad informarvi!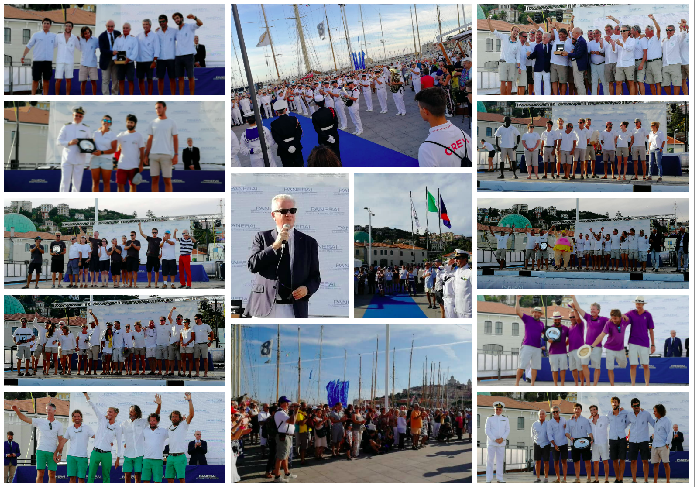 Si è conclusa oggi la manifestazione Vele d'Epoca 2018 a Imperia. A seguito della tradizionale Grande Parata che questa mattina ha solcato le acque antistanti la città, nel tardo pomeriggio si sono svolte le premiazioni degli equipaggi e la cerimonia di chiusura ufficiale, alla presenza di molte autorità civili e militari del territorio e di un nutrito pubblico raccolto in Calata Anselmi.
Le classi coinvolte sono state 8, così suddivise: Big Boat – Classici 1 e 2 – Epoca Aurici 1 e 2, Spirit of Tradition, Epoca Marconi 1 e 2.
Ecco i premiati della edizione numero 20.
Premi speciali Assonautica Imperia
il Premio Assonautica Imperia è stato assegnato alla imbarcazione Barbara che quest'anno dopo decenni dalla sua ultima navigazione ha ripreso la sua rotta tra le regine del mare
il PremioEleganza 2018 assegnato a Moonbeam IV per l'eleganza della barca e dell'equipaggio in armonia con lo spirito e la tradizione dello yachting.
Il Premio Ranzini, assegnato a Eva, l'equipaggio con più donne a bordo.
Un riconoscimento speciale ad Atlantic per aver partecipato al raduno e aver regalato un fantastico spettacolo agli amanti delle vele.
Il Premio Frantoio Sant'Agata di Oneglia alla imbarcazione Il Moro di Venezia I che ricorda nel suo nome la città originaria della fondatrice dell'azienda.
il Trofeo Città di Imperia assegnato a Cambria che dopo diverse edizioni torna alle vele d'epoca di Imperia.
Questi i vincitori di ogni classe dopo 4 giorni di regata. Premiati i primi tre classificati di ogni Classe
Big Boat: Mariska (1,1,1,1)
Classici 1: Il Moro di Venezia I (1,1,1)
Classici 2: Resolute Salmon (1,1,1)
Epoca Aurici 1: Olympian (1,1,1)
Epoca Aurici 2: Tilli XV (2,1,1)
Epoca Marconi 1: Comet (1,1,3)
Epoca Marconi 2: Cippino II (1,1,1)
Spirit of Tradition: Dulcinea (1,1,1)
Il Premio speciale Panerai, per il Panerai Classic Yachts Challenge è andato ai primi overall dei 4 gruppi: Big Boat, Spirit, Classici ed Epoca.
Overall Yacht Big Boat: Mariska
Overall Yacht Spirit of Tradition: Dulcinea
Overall Yacht Classici: Il Moro di Venezia I
Overall Yacht Epoca: Cippino II
Le classifiche complete sul sito: veledepoca.com
Claudio Scajola
"Ringrazio i protagonisti veri del raduno: i naviganti. Donne, uomini che veleggiando davanti a Imperia hanno dato uno spettacolo indimenticabile a tutti i turisti e cittadini di Imperia. Ringrazio i più silenziosi, quelli che hanno operato in modo riservato, lavorando giorno e notte, gli ormeggiatori, gli allestitori degli stand, coloro che hanno garantito la pulizia, i marinai, il comandante del Porto, i servizi di sicurezza che in modo riservato e discreto hanno garantito lo svolgimento sereno di questa manifestazione. 
Ringrazio Panerai, Alfa Romeo e tutti gli stand che hanno permesso di far tornare i conti di questa manifestazione. La banchina e l'organizzazione sono stati all'altezza di sponsor di questo livello. Grazie e arrivederci alla prossima edizione".
[wzslider autoplay="true" interval="6000″ transition="'slide'" lightbox="true"]
Sostieni ImperiaPost con una piccola donazione
Aiutateci ad informarvi!