Sostieni ImperiaPost con una piccola donazione
Aiutateci ad informarvi!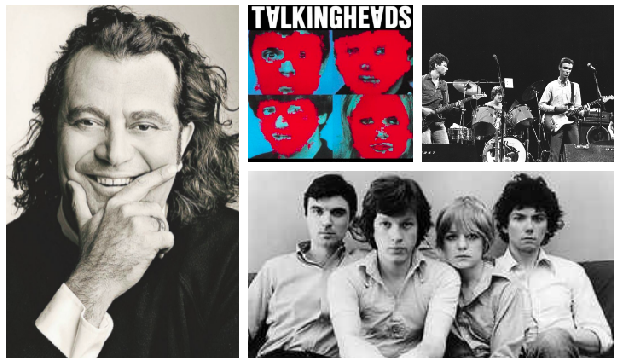 Eccoci alla quarta puntata di "MusicaPost", la rubrica di ImperiaPost in collaborazione con il discografico imperiese di fama internazionale Stefano Senardi.
Si tratta di uno spazio in cui Senardi presenta una proposta musicale ai lettori, attraverso una "lezione" di ascolto della musica, facendo scoprire i retroscena, la storia e le leggende che si nascondono dietro i brani e gli artisti che li creano, sfruttando la grande esperienza del nostro concittadino.
Dopo aver approfondito la "Summer of Love" del 1967, il 4° album dei King Crimson intitolato "Islands", pubblicato nel 1971, e il disco "Manhole" di Grace Slick, questa volta la scelta è ricaduta su un capolavoro degli anni '80.
"Si tratta di "Remain in Light" dei Talking Head del 1980 – afferma Senardi – È un album fondamentale per la storia della musica, che tutti gli appassionati dovrebbero conoscere. Ha inaugurato un nuovo modo di concepire la produzione discografica e ha raccolto quello che di meglio derivava dalla musica punk degli anni '70, con i suoni etnici della musica africana e ancestrale e anticipando gli arrangiamenti della musica elettronica e hip hop".
INIZIALMENTE IL PRODUTTORE SI ERA RIFIUTATO DI COLLABORARE, COME MAI?
"Sì, l'album nasce da un iniziale rifiuto del produttore Brian Eno. Con i Talking Heads aveva già prodotto "More Songs About Buildings and Food" e "Fear of Music", e non voleva più produrne un terzo. Poi, David Byrne, leader indiscusso del gruppo, stava lavorando sulle ritmiche e i loop di "I Zimbra", ha iniziato a improvvisare il testo di quella che sarà "Once in a lifetime". Sentendo questa improvvisazione e incontrando l'entusiasmo degli altri componenti della band, Brian Eno cambiò idea.
La frase "Once in a lifetime" veniva usata spesso all'inizio dei sermoni e, in effetti, l'incedere della canzone, dal ritmo ipnotico e ripetitivo, ricorda le prediche dei pastori americani. La parte africana trae ispirazione da "Afrodisiac" del musicista africano Fela Kuti.
Brian Eno arrivava da un suo album solista "Before and After Science" del '77, straordinario, in cui veniva fatto un uso nuovo e incredibile dell'elettronica, che si porterà dietro nelle opere successive. L'album contiene anche il brano principale de "La stanza del figlio" di Nanni Moretti, "By the River". 
Nello stesso periodo di "Remain in Light", Byrne e Eno registrarono un album determinante, con una ricerca di ritmica ed elettronica straordinaria, che ancora oggi è la bibbia dei dj: "My Life in the Bush of Ghost".
QUAL È LA PARTICOLARITÀ DI QUESTO ALBUM?
"La parte creativa di "Remain in Light" non è tanto il leader David Byrne, come per gli altri album, ma gli altri membri della band. Chris Frantz (batterista), Tina Weymouth (bassista) e Jerry Harrison (chitarrista) volevano far vedere che la parte musicale era essenziale, mettendo in mostra le loro capacità e creatività, e dimostrando che la band non era formata solo da Byrne.
"Remain in Light" nasce in un momento di crisi della band. È quasi tutto creato da improvvisazioni, raccoglie le radici ancestrali africane e le ossessioni dei giorni contemporanei, psicotici e frenetici, mischiati a momenti gioiosi. C'è una concezione ritmica nuova, tamburi ed elettronica, cori sacri e punk. È un album unico e irripetibile, avanti per i propri tempi e un punto di riferimento per la musica moderna. Nell'elaborazione Byrne si buttava in delle specie di trans per far fluire i suoni della voce, a cui dava un senso con il testo".
LA TOURNÉE NON ERA COMPOSTA SOLO DAI 4 MEMBRI DEL GRUPPO, CHI HA PARTECIPATO?
"Nona Hendryx, Jon Hassell e Adrian Belew hanno dato un contribuito determinante all'album. Data la complessità, inevitabilmente non poteva essere suonato da solamente i 4 membri, quindi la tournée venne fatta in 9, come suggerito da Brian Eno.
La toruneè fu straordinaria, uno dei spettacoli più belli del rock dal vivo degli anni 80. Si può vedere un concerto nel film "Stop making sense" del regista Jonathan Demme, recentemente defunto, che ha girato anche "Il silenzio degli innocenti". 
Una curiosità: Demme, appassionato di musica, in Italia sentì in filodiffusione una canzone di Enzo Avitabile, e tornò apposta in Italia per conoscerlo e complimentarsi. Da lì nacque un rapporto importante e prima di morire fece uno splendido documentario su di lui.
Tornando al film, "Stop making sense" segue tutto il concerto dei Talking Heads a New York, e si può assistere alla contaminazione tra la musica elettronica, punk e africana, ammirando il contrasto tra i ritmi tribali e l'alienazione metropolitana.
La copertina, rivoluzionaria, sembra fatta da un bambino. I volti sono cancellati con blocchi di colore rosso, tranne che per gli occhi, i nasi e le bocche".
QUANDO È IL MOMENTO MIGLIORE PER ASCOLTARE QUESTO ALBUM?
"È da ascoltare quando bisogna darsi una carica, quando ci si sente fiacchi e privi di ispirazione. È un album che fa pensare, muovere e ballare. È un esempio di intelligenza superiore, un miracolo di quelli che capitano ogni tanto nel mondo della musica, sia spirituale sia gioioso".
C'È QUALCHE RICORDO DELLA SUA VITA PERSONALE LEGATO A QUESTO DISCO?
"Andai a vedere un loro concerto a Milano. Conoscevo la band per gli album precedenti, ma non benissimo. Rimasi folgorato. Si può solo immaginare cosa possa significare per un ragazzo negli anni '80 vedere uno spettacolo dove a sorpresa escono tutti questi musicisti a riempire il palco, come una specie di sabba infernale, ma positivo. Si respirava l'essenza massima del rock".
LE ALTRE PUNTATE DI MUSICAPOST:
N°1 Summer of Love
LE TRACCE
Lato A
– Born Under Punches (The Heat Goes On) – 5:46
– Crosseyed and Painless – 4:45
– The Great Curve – 6:26
Lato B
– Once in a Lifetime – 4:19
– Houses in Motion – 4:30
– Seen and Not Seen – 3:20
– Listening Wind – 4:42
– The Overload – 6:00
Sostieni ImperiaPost con una piccola donazione
Aiutateci ad informarvi!