Sostieni ImperiaPost con una piccola donazione
Aiutateci ad informarvi!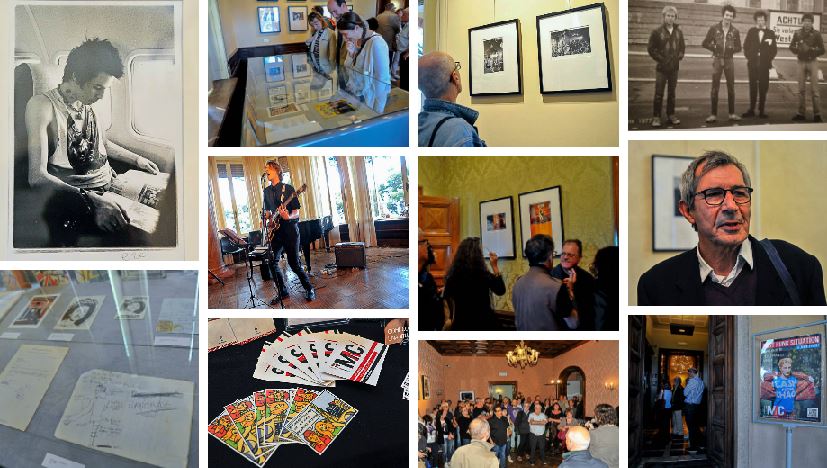 E' stata inaugurata ieri, sabato 5 maggio, a Imperia, a Villa Faravelli, la mostra "Post Punk Situation" di John Tiberi, rassegna, sviluppata grazie all'idea di Alfonso Sista, in collaborazione con il M.A.C.I. (gestito dalla Cooperativa Cmc), con la curatela di Alessandro Romanini, che racconta il movimento e l'estetica Punk e percorre un viaggio alle radici delle istanze controculturali e delle ribellioni "artistiche" del XX° secolo.
La mostra
Le foto di John Tiberi allestite nelle sale del M.A.C.I., mostrano il fenomeno Punk e i Sex Pistols in tutte le sfumature: dai movimentati concerti all'inizio della loro esperienza musicale, alle registrazioni in studio, dalle tournée (compresa la celeberrima serie di concerti in Scandinavia), ai viaggi – tra cui quello leggendario a Berlino dove fu composto il brano "Holydays in the Sun" (prodotto in studio dallo stesso Tiberi) – fino alla vita quotidiana della band lontana dai riflettori e la società del periodo.
Un consistente nucleo di documenti (fanzines, testi, libri…) e una sala video con inediti filmati dell'epoca, completano l'allestimento.
Una storia fatta di immagini, video, installazioni e ricordi personali, che coinvolge un'audience nazionale ed internazionale curiosa ed appassionata, ma anche un pubblico locale di giovani che riscoprono il Punk e di meno giovani, che il Punk lo hanno vissuto come esperienza di vita e di ribellione giovanile.
Angelo Giacobbe (Cooperativa Cmc)
"Riparte in grande stile la stagione del Maci. Post Punk Situation è la mostra che abbiamo inaugurato a Villa Faravelli e sarà con noi sino all'8 luglio per scoprire un viaggio emozionante in quella che è stata un'esperienza, quella del punk, che conosciuta principalmente dal punto di vista musicale, è stata poi un movimento di moda, di tendenza, ideale. Siamo partiti dai Sex Pistols, il gruppo che ha avuto come road manager John Tiberi che è l'occhio che ha documentato, con svariato materiale fotografico esposto Villa Faravelli, questa grande esperienza.
Insieme alla mostra, tanti momenti ci accompagneranno. Il 2 giugno la conferenza della professoressa Gagliano, imperiese, quale vice direttrice dell'Accademia delle Belle Arti di Genova. Poi l'evento attesissimo del 9 giugno ai Sognatori, il concerto di Glen Matlock, fondatore dei Sex Pistols. Un'occasione straordinaria. E poi anche le proiezioni curate dall'associazione Proxima legate chiaramente al tema del punk".
Alfonso Sista
"Ho avuto l'idea di portare a Imperia questa mostra perché dopo averla vista l'anno scorso a Lucca me ne sono innamorato. Ho contattato il curatore ufficiale dell'epoca, Alessandro Romanini, che si è subito detto disponibile a portare questa mostra a Imperia. Poi ho contattato Angelo Giacobbe, che gestisce Villa Faravelli, e anche lui si è dimostrato entusiasta. Così abbiamo deciso di allestire questa mostra.
Il movimento Punk assume dei risvolti artistici, oltre che musicali e culturali. Si parte da movimenti d'avanguardia precedenti, il situazionismo, il cui manifesto era stato emanano a Cosio d'Arroscia nel 1957. Il punk si rifà anche al movimento Dada del 1916-1917, altra avanguardia molto istruttiva dell'arte contemporanea".
Alessandro Romanini
"Com'è nata l'idea di questa mostra? Parte da una passione giovanile, che poi è andata crescendo dopo gli studi universitari. In occasione dell'anniversario, lo scorso anno, 2017, dell'uscita di God Save The Queen, per il Giubileo della Regina, nell'ambito del Lucca Film Festival ho deciso di organizzare una mostra che tracciasse i legami tra il punk e le realtà avanguardistiche di inizio '900. Questo per dimostrare che il punk non è solo un movimento musicale, ma soprattutto avesse la coscienza in alcune componenti di una volontà che oltre alla ribellione si collegava alle avanguardie di inizio secolo.
La mostra è nata dal contatto anche con John Tiberi, Glen Matlock, coloro che in qualche modo sono stati protagonisti e anche testimoni di questa che è stata l'ultima avanguardia del '900 che poi dalla musica è debordata nella moda, nella grafica, nel cinema. Un modo di comportamento che ha molte similitudini ancora oggi a livello socio-politico. Ci è sembrata la proposta di Imperia ottimale vista la vicinanza con Cosio d'Arroscia e i legami con il situazionismo e con le altre avanguardie culturali del secondo dopoguerra".
John Tiberi
Esibizione
POST PUNK SITUATION

Il Programma
Sino a domenica 8 luglio 2018
M.A.C.I. Villa Faravelli
POST PUNK SITUATION
una mostra di John Tiberi
Sabato 2 Giugno 2018 – h 17.30
M.A.C.I. Villa Faravelli
DADA E OLTRE
Incontro con la Prof.ssa Alessandra Gagliano Candela
________________________
Sabato 9 Giugno 2018
M.A.C.I. Villa Faravelli & I Sognatori
GLEN MATLOCK LIVE IN IMPERIA
Masterclass e concerto con il bassista dei Sex Pistols
________________________
MOSTRIAMO IL CINEMA
Rassegna cinematografica sulla cinematografia indipendente
A cura dell'associazione Proxima
Giugno – Luglio 2018
Sostieni ImperiaPost con una piccola donazione
Aiutateci ad informarvi!