Sostieni ImperiaPost con una piccola donazione
Aiutateci ad informarvi!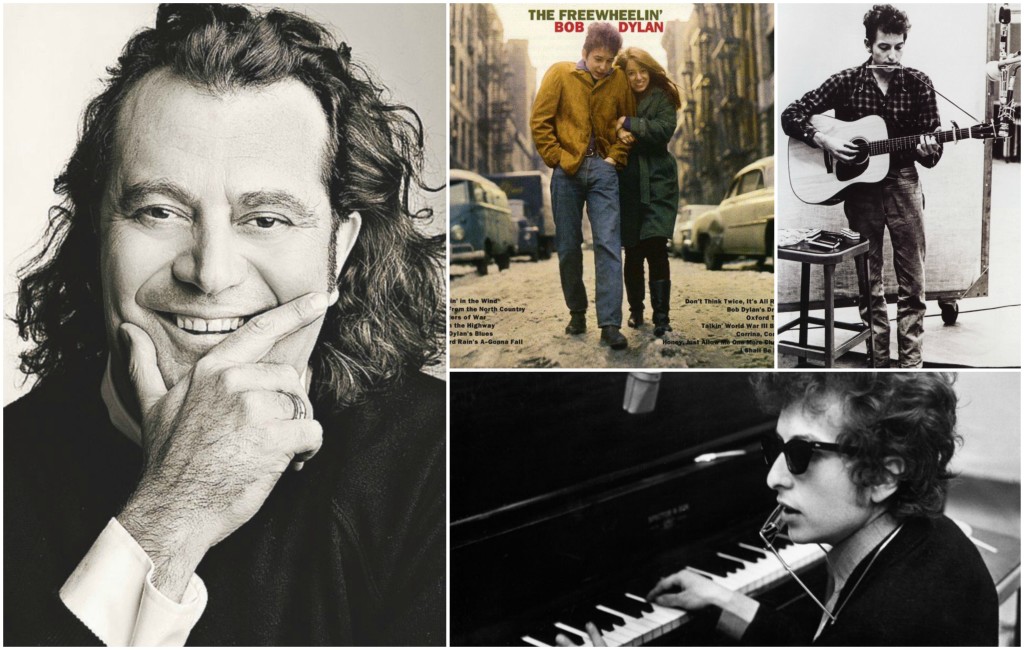 Eccoci all'ottava puntata di "MusicaPost", la rubrica di ImperiaPost in collaborazione con il discografico imperiese di fama internazionale Stefano Senardi.
Si tratta di uno spazio in cui Senardi presenta una proposta musicale ai lettori, attraverso una "lezione" di ascolto della musica, facendo scoprire i retroscena, la storia e le leggende che si nascondono dietro i brani e gli artisti che li creano, sfruttando la grande esperienza del nostro concittadino.
Dopo aver approfondito la "Summer of Love" del 1967,  "Islands" dei King Crimson intitolato,  "Manhole" di Grace Slick, "Remain in Light" dei Talking Heads,"Bryter Layter" di Nick Drake, "Rock Bottom" di Robert Wyatt e "Astral Weeks" di Van Morrison, è arrivato il momento di "The Freewheelin" di Bob Dylan.
"Andiamo un po' indietro nel tempo – racconta Stefano Senardi – Siamo nel 1962, quando iniziano le registrazioni del suo secondo album ufficiale, ma il primo con cui cambia la sua vita e anche la storia della musica mondiale. Le registrazioni vengono fatte a singhiozzi negli studi della Columbia in 8 sessioni nell'arco di un anno e il disco verrà pubblicato nella primavera del 1963″.
 QUALI SONO LE CARATTERISTICHE DEL DISCO?
"Dylan si reca a New York nel '62 inizialmente per iniziare una carriera come cantautore folk. Va a trovare Woody Guthrie, con il quale aveva inciso molte canzoni folk. Il disco, che letteralmente significa "Bob Dylan a ruota libera", parte da una base folk, ma è talmente originale che rivoluziona la figura del cantante di questo genere prima di lui. Il primo brano fondamentale storia musica e della sua discografia è ovviamente "Blowin in the Wind", canzone che diventa la bandiera del pacifismo e della contestazione in particolare contro la violenza e la guerra. È un inno alla fratellanza.
"Master of war" è contro i fabbricanti di armi, molto forte nei toni. Si augura infatti che muoiano presto. "A hard rain" è un brano molto complesso. Lo presenta a sorpresa, tirando fuori dei fogli con su scritto un testo lunghissimo, senza quella retorica o pesantezza dei canoni di protesta".
I SUOI TONI DI PROTESTA RISULTANO ORGINALI RISPETTO AI PRECEDENTI. IN CHE MODO?
"Dylan non dà mai delle soluzioni. Si limita a descrivere problema e lascia le conclusioni all'ascoltatore. Non entra nel merito, anzi spesso nega di aver avuto determinate intenzioni con le sue canzoni.
Non è profetico né apocalittico. Pur essendo nato nel momento dei missili di Cuba, della guerra in Vietnam.
Non vuole mai dare interpretazioni facili delle sue canzoni, si rinnova sempre anche contraddicendosi, eseguendo i brani dal vivo sempre in modo diverse, per renderli vivi e inafferrabili".
BOB DYLAN SI DISTINGUE SUBITO ALL'INTERNO DEL PANORAMA MUSICALE DI NEW YORK.
"Sì. A New York Dylan frequenta ogni ambiente musicale, ha solo 21 anni, ma si fa subito notare. È diverso, ha una voce nasale anche sgradevole, racconta di problemi gravi e seri in maniera suadente e non ha quel rispetto colto, fastidioso e presupponente rispetto ai testi sacri del folk. Lui li interpreta come gli viene e come gli ordina il suo cuore. Racconta quegli anni con autorironia. Ripete spesso che le canzoni stanno lì, in astratto, e aspettano che qualcuno passi e se ne appropri. Una sua caratteristica è il fatto di fare sempre tutto di fretta, mangiare, studiare, vivere.
Quando Allen Ginsberg sente per la prima volta il disco scoppia a piangere e si rende conto che il testimone passa a una nuova generazione. Nel frattempo, Fernanda Pivano lo chiama "poeta".
La sua caratteristica è rifarsi alle melodie spiritual, blues e folk tradizionali. Non si tratta di furti, non c'è niente di male perché significa prendere ispirazione per trasformarla in materiale originale". 
COS'HA DI PARTICOLARE LA COPERTINA DEL DISCO?
"È molto curiosa perché è una semplicissima foto a passeggio con la fidanzata di allora, Suze Rotolo, scattata nell '63 vicino all'appartamento dove viveva la coppia. A Suze Rotolo Dylan dedica diverse canzoni dell'album, come "Don't Think Twice". 
Rotolo viene da una famiglia di origine italiana, i suoi genitori fanno parte del partito comunista americano, aspetto che fa capire la crescita culturale della figlia. Dylan è innamorato, ma lei lo lascia per andare a studiare arte a Perugia. "Ha preso il mio cuore e lo ha portato in una valigia in Italia", scriverà per lei.
Più tardi tentano di stare ancora insieme, la foto è scattata da un fotografo della Columbia e va in netta contrapposizione con le copertine ridondanti ed eleganti dell'epoca. Sembra una foto vita quotidiana qualsiasi, non di un disco, è rivoluzionaria". 
SI PUÒ DIRE CHE BOB DYLAN È UN CANTAUTORE MODERNO?
"Sì, proprio con Dylan nasce la figura moderna del cantautore. Il suo modo di scrivere è moderno e innovativo. La struttura della composizione è più libera, meno conservatrice. Prima l'approccio vocale era ineccepibile, con lui si fa più fuori dagli schemi e originale.
Scrivendo canzoni di protesta corre il rischio di diventare pedante e retorico, ma lui non ha paura. Il suo modo di interpretare le canzoni fa in modo che vengano recepite in modo diverso. 
A 22 anni si trova ad essere portavoce della gioventù e della sua generazione. I suoi testi sono universali, nessuno ha una atemporalità così importate.
In seguto, Dylan ha una relazione amorosa con Joan Baez, una delle storie più emblematiche e simboliche per il clima sociale e civile dell'epoca. Durante un concerto della cantante, Dylan è ospite speciale sul palco di Monterey.
Dylan arriva 20° nella classifica americana, mentre al primo posto in quella inglese. In Inghilterra partecipa a un programma televisivo di cui però purtroppo non c'è più traccia.
Viene adorato da tutti gli artisti della sua generazione, i Beatles in testa, divorano questo album e si frequentano".
ANEDDOTI LEGATI ALLA SUA ESPERIENZA PERSONALE?
"Mio figlio si chiama Matteo Alberto Bob Dylan Senardi perché ho sempre adorato questo artista. Per far registrare il nome ho dovuto insistere un po' all'anagrafe, perché affermavano che "Dylan" non si potesse usare essendo un cognome. Alla fine ce l'ho fatta e sono convinto che mio figlio ne sia orgoglioso.
Ai tempi dell'università, ricordo che dovevo andare a Balbi a sostenere l'esame di Storia del Teatro, ma la sera prima io e i miei amici, Teresa Pollero, Giuseppe Montanari e Leonardo Bruno, non ci volevamo perdere il concerto di Dylan a Norimberga, così ci azzardammo a partire. Tornammo in tarda notte e alla mattina dopo arrivai giusto in tempo per l'esame. È un ricordo che custodirò sempre.
Consiglio fortemente questo disco e anche "Blood on the Tracks", ritenuto fondamentale dalla critica, "Blonde and blonde" e "Nashville skyline", rieseguito con Johnny Cash quando non era ancora stato rivalutato per le sue posizioni politiche. Ancora una volta è un provocatore".
TRACCE
Lato 1
Blowin' in the Wind – 2:47
Girl from the North Country – 3:18
Masters of War – 4:29
Down the Highway – 3:19
Bob Dylan's Blues – 2:19
A Hard Rain's a-Gonna Fall – 6:47
Lato 2
Don't Think Twice, It's All Right – 3:37
Bob Dylan's Dream – 4:58
Oxford Town – 1:47
Talkin' World War III Blues – 6:23
Corrina, Corrina – 2:40 (adatt. e arr. da Dylan)
Honey, Just Allow Me One More Chance – 1:57 (Thomas, Dylan)
I Shall Be Free – 4:45
LE ALTRE PUNTATE DI MUSICAPOST:
N°1 Summer of Love
N°4 Remain in Light – Talking Heads
N°5 Bryter Layter – Nick Drake
N°6 Robert Wyatt – Rock Bottom
Sostieni ImperiaPost con una piccola donazione
Aiutateci ad informarvi!