Sostieni ImperiaPost con una piccola donazione
Aiutateci ad informarvi!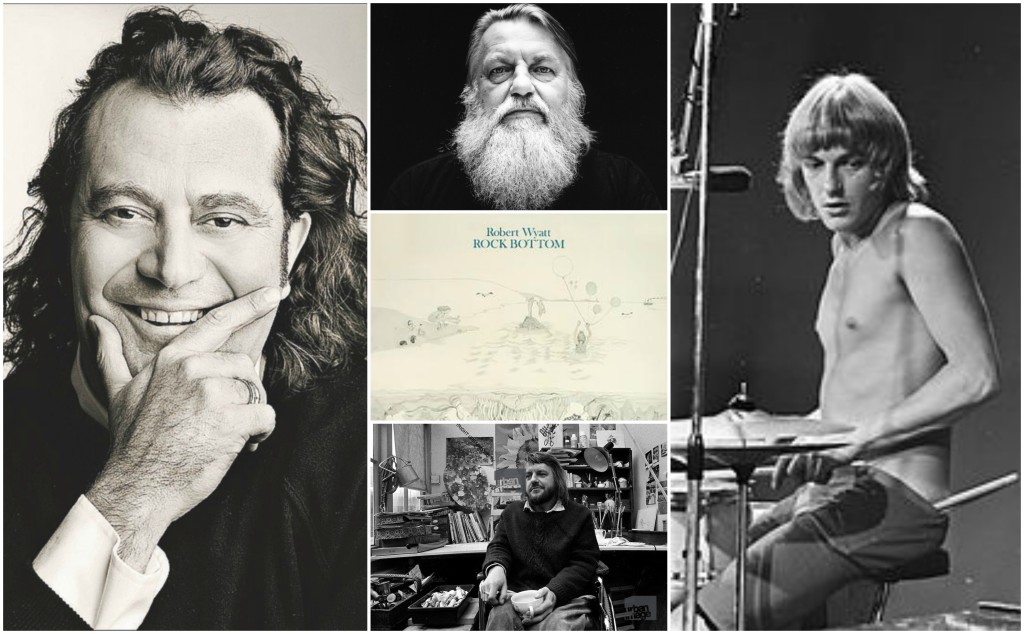 Eccoci alla sesta puntata di "MusicaPost", la rubrica di ImperiaPost in collaborazione con il discografico imperiese di fama internazionale Stefano Senardi.
Si tratta di uno spazio in cui Senardi presenta una proposta musicale ai lettori, attraverso una "lezione" di ascolto della musica, facendo scoprire i retroscena, la storia e le leggende che si nascondono dietro i brani e gli artisti che li creano, sfruttando la grande esperienza del nostro concittadino.
Dopo aver approfondito la "Summer of Love" del 1967, il 4° album dei King Crimson intitolato "Islands", pubblicato nel 1971, il disco "Manhole" di Grace Slick, l'album "Remain in Light" dei Talking Heads e l'album "Bryter Layter" di Nick Drake, questa volta la scelta è ricaduta sull'artista Robert Wyatt.
"È uno dei miei artisti preferiti – afferma Stefano Senardi – Alcuni critici pensano che sia talmente importante da considerare la musica moderna "prima di Robert Wyatt" e "dopo Robert Wyatt". Raccoglie e supera tutte le esperienze precedenti di rock progressive". 
CHI È ROBERT WYATT?
"Nasce nel 1945. Già da giovanissimo, 16enne, frequenta musicisti interessanti del panorama jazz, rock sperimentale, surreale, dadaista, nella scena di Canterbury, città universitaria dove si trovano diversi artisti, dai "The Wilde Flowers" ai "Pink Floyd", tutti gruppi originali e interessanti che contribuirono alla musica inglese, europea e mondiale. 
Tastierista, cantante, compositore, entra nei "Soft Machine", incontra personaggi leggendari come Daevid Allen. Mentre è nei Soft Machine, il gruppo si sposta da dadaista si sposta sul jazz rock, e si sente un po' a disagio. Canta una canzone che compone lui perché gli altri membri prendono la piega jazz, intitolata "Moon in June". È cantata da una voce con capacità e potenzialità, molto dolce, ma dentro c'è una tensione drammatica ed emotiva fortissima.
Dopodiché fonda i "Matching Mole", una specie di parodia dei "Soft Machine", data l'omofonia con l'espressione francese "Machine Molle". Si interessa alla musica africana, jazz, musica d'avanguardia".
NEL 1973 SUBISCE UN GRAVE INCIDENTE, QUALI CONSEGUENZE AVRÀ SULLA SUA CARRIERA?
"Sì, nel 1973. Sta realizzando il terzo album "Matching Mole", quando cade dal 4° piano in pieno stato di ebrezza. Dice che se non fosse stato in quella condizione sarebbe stato rigido e quindi, probabilmente, sarebbe morto. Non muore, ma si spacca la spina dorsale, viene ricoverato e finisce sulla sedia a rotelle. 
Nessuno si sarebbe aspettato che avrebbe sfornato un capolavoro. Come capita certe volte, dopo la "morte" si ha una "resurrezione" e questo è successo anche a Wyatt, con la pubblicazione di "Rock Bottom" da solista. Molti critici dicono che è come il percorso dell'"Odissea nello spazio". Sono 6 canzoni, ma potrebbe essere una collegata. Parla di un uomo che scende nel più profondo del mare. Apparentemente dolorosa, la melodia diventa dolcissima e fonte di grande ispirazione. Una musica di profonda leggerezza e senso di pacatezza e di raggiungimento di pace interiore. Un viaggio all'interno della mente dell'uomo che usa come metafora la discesa nell'oceano.
Rappresenta un cambiamento nella storia del rock moderno, racchiude la catarsi, la salita grandiosa ispirata, un po' dalla morte alla resurrezione. Partecipano musicisti del suo giro musicisti del suo giro Richard St. Claire, Gary Windo e altri. È prodotto da Nick Mason dei Pink Floyd.
Ci sono tantissime allegorie nel disco, ognuno può interpretarselo come vuole, è questa la grandezza delle opere d'arte.
Lo consiglio a tutti quelli che amano la buona musica. Sarà come compiere un viaggio, farà star bene.
E DOPO "ROCK BOTTOM"?
"Negli anni '80 prosegue il suo percorso, si ritira recentemente dalla musica e mira a un impegno sociale e politico interessato ai problemi dell'Africa e della classe operaia. Incide canzoni popolari sudamericane anni '80. Inoltre, rifà nel 1974 "I'm a believer" di Neil Diamond, portata al successo dai Monkees ("Sono bugiarda" della Caselli). Partecipa a Top of the pops, nonostante il fastidio che provoca avere un tizio carrozzella in studio. Anzi, pretende che in un'esibizione tutti i musicisti suonino in carrozzella. Elvis Costello gli dedica "Shipbuilding".
Un'altra curiosità è che Wyatt entra a far parte del partito comunista inglese, sebbene fosse molto difficile in un paese di laburisti, e poi se ne va dicendo che è molto più originale uscire dal partito comunista che entrarci".
NATALE È IL PERIODO GIUSTO PER ASCOLTARE WYATT?
Sì, sotto Natale consiglio di ascoltare Robert Wyatt, ma non solo, vorrei suggerire 2 video e 2 film da vedere nelle feste.
I video sono "Sign of the time" di Prince, artista di cui parleremo che ho conosciuto e amato, e che poteva ancora darci ancora tanto, e il live dei Gorillaz a Manchester.
I film sono "Across the Universe" e "I love radio rock", due gioielli divertenti e leggeri, che mostrano l'amore per la musica. 
Infine, un altro consiglio è l'album "Com'è profondo il mare" di Lucio Dalla, versione nuova, uno degli artisti più importanti musica italiana, del 1977″.
COSA RAPPRESENTA PER LA SUA ESPERIENZA PERSONALE QUESTO ARTISTA?
"Con i miei amici, tra cui Leonardo Bruno, Paolo Murruzzu, abbiamo ascoltato almeno 10 volte al mese l'album per 5 anni della nostra esistenza, mentre andavamo al Liceo. Sono stati proprio loro a dirmi di non dimenticarmi di Robert Wyatt per questa rubrica. 
Ho anche avuto modo di conoscerlo personalmente al salone della musica di Torino quando realizzai con un gruppo di produttori toscani "I dischi del mulo", etichetta capeggiata da Gianni Maroccolo. C'erano diversi artisti che rifacevano sue canzoni. Max Gazzè scelse "Oh Caroline", che realizzò in maniera fantastica. Robert Wyatt venne in sedie a rotelle a Torino, un episodio indimenticabile.
Nel '74, con un gruppo di imperiesi eravamo a Londra, dove abbiamo assistito a un concerto di 12 ore di moltissimi artisti della scena progressiva del jazz inglese. Ci siamo imbattuti alla Royal Drury Lane, che precedeva di qualche mese pubblicazione l'album "Rock Bottom". Eravamo addolorati per l'incidente di Robert Wyatt incidente non ci aspettavamo che avrebbe continuato e con un album di quella importanza. Dopo mesi in ospedale, si è presentato a suonare la tastiera e a cantare con i suoi amici".
LE ALTRE PUNTATE DI MUSICAPOST:
N°1 Summer of Love
N°4 Remain in Light – Talking Heads
Sostieni ImperiaPost con una piccola donazione
Aiutateci ad informarvi!